Hello..long time no see and all that...
I've been so busy these past few weeks...then my computer went kaput...Isn't that reason enough for me being a lazybones? Then , one of my friends, M, asked me if I could do a cooking class at the YWCA..I was unsure at first..but M persisted..and finally, I decided to do it!
So, next week, on 8th july,2009, I will be doing my first ever cooking demonstration in front of a large crowd of well heeled ladies..many of them light years ahead of me in experience and age..you can imagine the jitters they're giving me..Hopefully I won't make a complete mess of things..!!
After a lengthy discussion with M, we decided to make Alleesa(Haleem) , Kaaypola, and Dark Fantasy pudding.
Haleem is a middle Eastern dish, traditionally made in Pakistan, the Gulf, Dubai, Hyderabad, etc.
Alleesa, as we mallu muslims call it, is a porridge like dish made from wheat.



Normally made bland, with a side serving of sugar and chicken / mutton kurma, here in Muvattupuzha, we like it spicy.There's one more thing that differentiates our Alleesa from Haleem. Since we mallus love our coconuts, we just can't resist adding thick coconut milk to this.

This is the recipe I am giving you today ..
HALEEM aka ALLEESA

Ingredients:

Onion, sliced thin 2
Gingergarlic paste 1tbsp
Green chilly, slit 4

Salt 1 tsp
Coconut Oil 4 tbsp
Garam Masala** 2tsp

Turmeric
powder
1 tsp
Chilly powder 2 tsp
Tomato 1
Broken Wheat 1 cup
Chicken 250 gm
(preferably 2 leg pieces)
Coconut 1/2

Ghee 2tsp
Shallots /button onions 5-6
Curry leaves a stalk
Coriander leaves a handful



Method:

1. Soak wheat in water (2 cups) for at least two hours.Drain and keep aside.

2. Heat oil. Add onion, gingergarlic paste, green chillies and tomato(chopped). Add salt and saute well.

3. After 5 minutes of sauting, add all the spices.
(turmeric, chilly, garam masala)

4. Saute till well cooked , add chicken pieces and wheat. Mix well .

5. Add coconut milk (2nd pressing)*. Cook in pressure cooker on high flame till first whistle sounds. Then lower heat to simmer. Turn flame off after 5 minutes.

6. After ten minutes, open cooker, add coconut milk( first pressing)*. Heat again till it starts boiling. Turn off flame before it boils too much.

7. Serve haleem into a shallow dish.

8. Splutter curryleaves and shallots in ghee till crisp, then pour onto haleem or alleesa as a garnish. Serve hot.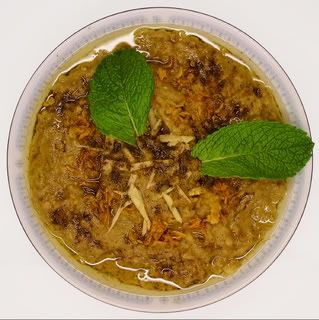 * Take the half coconut, grate and add 1 cup water. Blend in a blender/mixie, then strain and keep aside. This is the first pressing coconut milk.
Take the same grated coconut from the strainer, add 1 and a half cups water again to this, blend and strain seperately. This is the second pressing coconut milk.

** Garam masala -how to make at home.
Take equal quantity ( 25 gms each) of cinnamon, cardamom, cloves, peppercorn, and cumin seeds in a shallow nonstick pan. Heat on low flame for a minute , stirring with a spoon all the while. Powder in a dry mixie, and voila! you have your very own Garam masala!
This can also be used to enhance flavours for moghlai dishes like biryani, curries, pulaos, etc.